A new use for Botox & Filler to improve skin quality!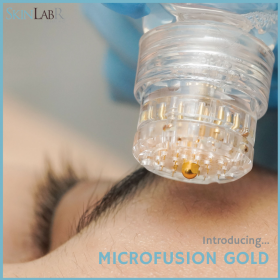 The NEWEST addition to the SkinLabRx regenerative MedSpa program.
Microfusion technology delivers smooth, glass-like skin with no downtime!
How it works:
Gold-tipped microneedling stamp microdoses the skin with a customized, skin rejuvenation cocktail of:
Botox to reduce pore size & sebum production
Hyaluronic Acid Filler to microplump fine lines & hydrate
Vitamin B to improve skin health
Vitamin C to brighten complexin
How we do it differently:
At SkinLabRx, we formulate our Microfusion solution to fit the skin and concerns of each individual.