With safety as our number one priority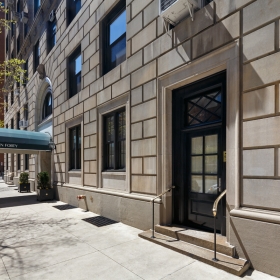 We are so happy to welcome you back to the practice and hope this finds you and your family well.
In light of the recent Covid-19 pandemic, safety is our number one concern! We have implemented extremely high safety and hygiene standards that apply to our office, staff, equipment, and procedures. We understand that these changes will feel new and different and we're here to ensure that your experience is smooth, comfortable and safe as we navigate the "new normal" together! We'll be updating our protocols with new developments.
Patient Appointment Guidelines
Prescreening:
We will call you the day prior for a prescreening evaluation. If we cannot reach you,

YOUR APPOINTMENT WILL NEED TO BE

RESCHEDULED

. Please read the attached screening questions as soon as possible and confirm none apply to you. If so, we will be happy to reschedule your appointment.  
Arrival at the Office:
There will be no waiting in the office; you will proceed directly to the exam room upon arrival. Please plan to be in the vicinity of the office at least 10 mins ahead of time. Due to new scheduling constraints, we may not be able to accommodate late arrivals and apologize in advance.

Wear a mask to your appointment

. Keep your mask on unless instructed to remove it.

Companions are strictly not allowed

into the office

Bring only

one

bag for personal belongings

Bring your own hair tie or headband

Do not wear ANY makeup to your appointment (including foundation, powder, eyeliner, mascara etc.)

. Please arrive with cleansed skin.

Bring a personal water bottle with you

if you wish

(we will not currently be serving drinks)

Use the bathroom prior to arriving at the office

If you would like

numbing cream

, please let us know in advance

and

we

will

prescribe it

for

you.

Please apply numbing cream 30 mins prior to your appointment on all the areas that may be treated. There will be disposable ice packs for use during the procedure.

Conversation in the office and especially in the exam room will be kept to a minimum

–

we

will plan your treatment on the phone with our staff the day prior to your appointment; please ask any questions you may have at that time.

The planned treatment will be followed. If you require further evaluation, a conversation with Dr. Hirmand will be arranged via telemedicine PRIOR to the treatment and NOT in the exam room at the time of the procedure.

Please use the foot pedal-activated hand sanitizer at the door prior to entry. We will take your temperature at the door. Please wash your hands using foot pedal-activated faucet in exam room upon entering and prior to leaving.
Contact-less Check-in and Check-out
Please fill out the attached credit card form (this limits contact and use of pens and communal items. We will e-mail your statement and payment receipt). You may leave the office directly after your treatment.
Enhanced Safety Measures:
We have implemented enhanced internal safety protocols that include:
Strict use of PPE's by all staff members

Installation of Operating Room-level air filtration systems in every treatment room

Hand sanitizing stations throughout the office and enhanced disinfection protocols

Decreased patient traffic, strategic scheduling and decreased time in exam rooms