Reshaping of the nose is a time tested confidence booster. A natural result will bring harmony to all facial features.
— Haideh Hirmand / MD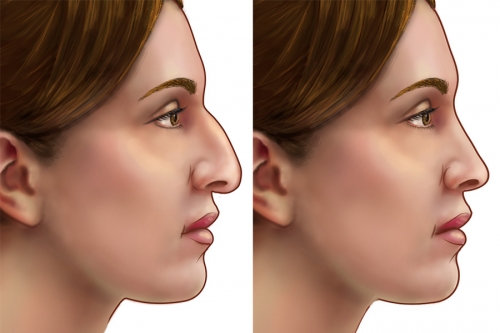 The size, shape and contour of the nose is influenced by heredity, trauma, or previous surgery. While a popular cosmetic procedure, nose reshaping can also correct structural abnormalities like a deviated septum, which can lead to breathing problems, chronic stuffiness, post-nasal drip and even snoring.
Specifics of this procedure vary greatly depending upon a person's concerns and desires. Bumps can be eliminated, nostril shape may be improved, and the bridge can be lowered or raised. The tip of the nose can be turned up or down and reduced or enlarged. Sometimes it is necessary to graft a bone or cartilage to the nasal structure to augment the nose. Today newer technology minimizes scars and provides more predictable results. Depending upon the situation, the procedure will be performed either "open" or "closed." In an open rhinoplasty a small incision is made in the tissue between the nostrils. In a closed rhinoplasty the incisions are all inside the nose.
Based upon facial proportions and profile, it is very common to consider other procedures along with nose surgery to achieve optimal facial harmony. A chin implant is the most popular option.
Priorities

Nose reshaping is one of the most interesting procedures compared to other facial surgeries primarily because both form and function are involved. The sculpting of the nose must be highly individualized to complement other facial features. The nose is the most prominent part of the profile and should be proportionate and in relation to the overall appearance.

The main priority is to reshape the nose to enhance your facial aesthetics without changing your "look." From an anatomic standpoint it is important to know if breathing is an issue, so functionality can be restored along with a new shape. From a cosmetic perspective, concerns must be discussed at length to design the proper surgical plan and achieve your goals while balancing other facial features.
Hirmand Technique

In my experience, creating a clear, precise and strategic plan ahead of surgery is as important as the techniques employed. Rhinoplasty requires precise execution.

I prefer the closed technique, in the majority of situations, to access and correct with precision, less trauma and a shorter recovery.

The open technique is reserved for less common situations where total exposure of the nasal structures is necessary.

Regardless of the approach there has to be a customized plan to treat the cartilage, bone and soft tissue. Effective shaping of the nasal tip is often a key component of the procedure. My preferred approach to the nasal tip involves using special internal sutures.

Spacer grafts are used to restore breathing issues and/or to prevent breathing problems after rhinoplasty in those with a narrow middle nose anatomy. Recognizing the need and using these cartilage grafts at the outset avoids breathing or shape issues after rhinoplasty and need for revisional surgery.

Although the intent of rhinoplasty is usually to reduce the size and refine the shape of the nose, added volume may also be required to balance the shape and size. Today instead of or in addition to cartilage grafts, we can use newer technology like Acellular Dermal Matrix (Alloderm or Strattice) for more reliable results.

A Note of Non-surgical Rhinoplasty:

Novel to the field of nose reshaping is non-surgical rhinoplasty. Using fillers such as Restylane, the shape and the aesthetics of the nose can be refined without surgery. It is also a great tool to compliment surgical results to avoid further surgery. This technique must be exact for maximal lift and the results are long lasting.

Surgical notes

Anesthesia: general
Length of surgery: 1-3 hours
Outpatient/inpatient: outpatient
Adjunct procedures: spacer grafts, addition of a cellular dermal matrix, chin implant
Recovery: 7-10 days