Cellulite Dimple Release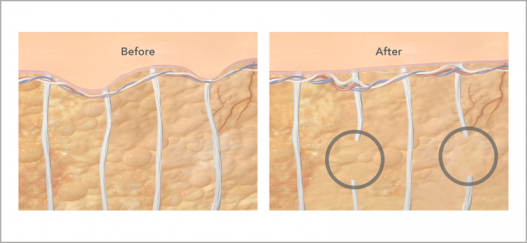 WHAT IS CELLFINA?
A novel, minimally-invasive, no-incision treatment clears cellulite dimples on the buttocks and thighs. Cellfina treats the structural causes of cellulite by releasing the underlying fibrous bands that pull the skin down and create dimples and divots. Cellfina delivers long-lasting improvement in the appearance of cellulite. 
---
THE TREATMENT:

Cellfina is performed in-office by Dr. Hirmand with a local numbing solution. A small suction machine isolates the treatment area and a small needle-sized microblade is inserted under the skin to release the fibrous bands.  Each dimple is treated individually and 10-15 dimples can be treated in a single session.
There is little downtime after treatment, though some may experience initial, soreness, tenderness or bruising, which resolves quickly with time. 
---
THE RESULTS:
Significant improvement in the appearance of cellulite is immediately visible after one treatment, with full results visible after three months.  Results are long-lasting, with a high rates of reported patient satisfaction.
READ MORE ON CELLFINA:
Dr. Hirmand speaks to LivingHealthy.com.