Non-surgical String Lift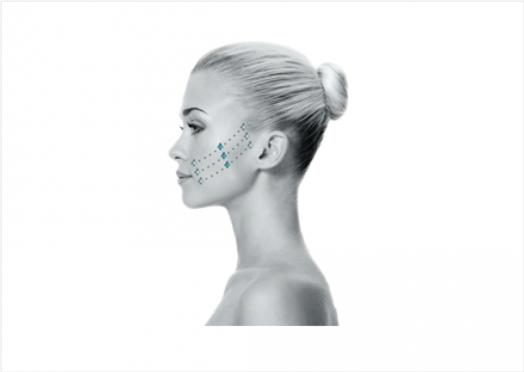 WHAT IS SILHOUETTE INSTALIFT?
Non-surgical, micro-lift treatment uses absorbable sutures placed underneath the skin to gently lift and firm sagging facial tissue of the midface, jawline and jowls. Instalift sutures also stimulate collagen growth, which helps fixate the tissue in an elevated position and provide longer lasting results.
---
WHY IS IT DIFFERENT?

Unlike other string lifts, Silhouette Instalift uses absorbable sutures with bidirectional cones that lift and reposition underlying layers of tissue.  As the sutures naturally absorb with time, they are replaced by new collagen deposits that continue to provide lasting support.
---
GOOD CANDIDATES:
Those who have thicker skin and sagging tissue – yet are not ready for a surgical facelift – are excellent candidates for Silhouette Instalift.
---
THE TREATMENT:
Instalift sutures are safely and strategically placed under the skin during a minimally-invasive, in-office procedure with local anesthetic. There is little downtime after the procedure, with minor bruising and swelling subsiding within a few days.
---
THE RESULTS:
Good candidates will notice firmer, more lifted skin immediately after treatment.  The procedure also improves the appearance of deep wrinkles and folds like marionette lines and nasolabial folds.  Results continue to improve over time. Like facial fillers, results are not permanent and additional sutures may be beneficial with time.